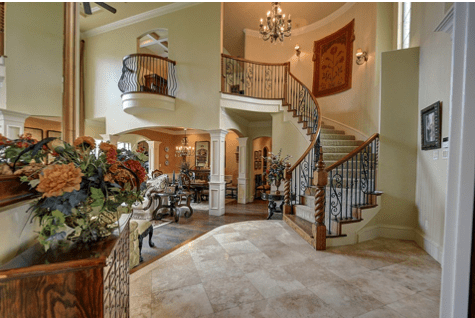 Credit: Pixabay
Singapore landed properties are characterised by stunning, innovative architecture, seamless and sleek design, and incredible, gorgeous lighting. With streaming sunshine, sprawling walls and high windows, the ambience inside a landed home is nothing short of heavenly. If you are lucky enough also to have double volume space, how you decorate the area affects your home's overall character. We offer some tips for decorating this oft-neglected space, so your property stands out.
Neutral, Fresh Colours
You want your double volume space to make your home seem larger, not smaller. Your walls should be something of a blank canvas for you to build on. Choosing soft colours for walls, such as cream, ivory, grey and white, lets you add striking features which stand out and catch guest's eyes. Give your guests the illusion of a mansion with this timeless tip. If you want something a bit more unusual, tile or paint one feature wall in an entirely different colour to create an alluring centrepiece.
Large Hanging Art
If you want to draw eyes upwards, so guests take in the height of your walls and ceiling, art is a beautiful and effective way to do this. Art which hangs down more than one floor serves as a feature point, and you can pick art which best reflects your tastes.
Choose Smaller Pieces for a Cosy Look
Perhaps you don't want to draw too much attention to your high walls. That's fine. Instead, you can select dainty mirrors and smaller paintings or artwork which help break the space between the living area and the upper floor. Alternatively, you can paint a lower wall in a different colour, or tile it to give the illusion of a more compact space.
Consider your Outdoor Space
Your whole landed property should work together as a harmonious, single unit. This includes the garden and any outdoor landscaping. You may consider wood ceiling features or wooden floor panels to run along walls and floors overlooking the garden, to create an exotic, sumptuous atmosphere, or choose colourful plants which complement the interior space.
Lighting is Everything
The beauty of a double volume space is how light and ethereal it can make your property. You do not want to compromise this beautiful architecture with ill-chosen lighting. Low-hanging chandeliers can focus the eye's attention on lower levels, keeping the sense of space but making it less bare and imposing. This is helpful for small areas, such as the dining area, where you want a sense of privacy and intimacy.
Soft, well-chosen lighting will also glisten in the evening, casting your walls with a beautiful golden glow and making your outdoor pool shimmer. Your guests will be impressed by your impeccable attention to detail all year round.
Pick the Right Furniture
Equally important is the furniture you choose to decorate your space. Bright, colourful chairs and tables can draw eyes away from the high ceiling while not compromising on space, and softer colours can create a harmonious environment.
Bookcases can be incredibly versatile, too. Choose high bookcases to reach up to the next level, or smaller cases to keep the attention focused on the lower or higher level. Again, it's helpful to consider different sections, such as the living space, and whether you want a cosy or sprawling feel.
Choose unique ornaments and spread them out well to create the feeling of even more space. Fireplace mantelpieces are particularly useful for this. If you want to brighten your home with features, choose standing ornaments, vases or plants which complement the colour scheme and fill those bare, hard-to-disguise corners.
With thoughtful design and attention to detail, your double volume space can be exquisite and used to the best of its advantages.