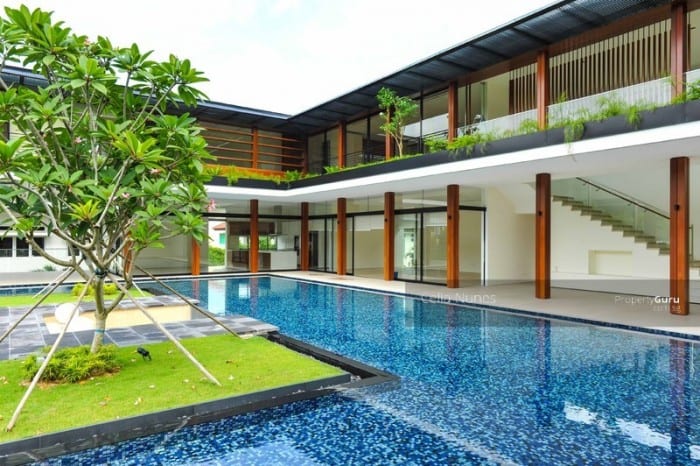 Credits: Property Guru
Good Class Bungalows are a special type of development with restrictions placed on the type of architecture and space taken of a building on a residential land plot, and gazetted by the Urban Redevelopment Authority. In Singapore, these limited availability, coveted and exclusive locales are seen as prestigious and in high demand.
Good Class Bungalows Regarded as Highest End of Luxury Market
Luxury buyers see Good Class Bungalows as the only landed areas still available within Singapore as opulent lifestyle buying. The urban development code stipulates that buildings should be no more than two storeys, and take up not more than 35% of the available land area. Plot sizes must also be at a minimum of 1400 square metres. This ensures that the built environment is not overcrowded and promotes the creation of beautiful landscaped gardens and greenery in between structures.
In Singapore, having the access to an outdoor area with the opportunity to create lush green gardens is indeed a touch of splendour. Paradise can be created in the owner's own residency.
Purchasing Parcels of Land Ensures Beautification
In the Good Class Bungalow residential areas, the requirements for a large portion of green space and limitations on the size of housing ensures that the overall feel of the suburb stays lavish and appealing. Foreigners are prohibited from purchasing these lots to ensure that such areas stay exclusive to locals. With the enthusiasm of landowners in these areas, they go to great lengths to create magnificent landscaped gardens. A visit to these residential suburbs is a testimony to living the life of sophistication.
Good Class Bungalow Areas Preserved
During the property and economic boom of Singapore in the 1970s, the government decided to preserve the large mansions or Good Class Bungalows to minimum specification in order to attract wealthy tycoons to Singapore. The government enshrined certain areas as designated Good Class Bungalow districts, and these have stayed as urban developments specifically for detached architectural residences. As a result, these areas averted the risk of being overdeveloped, and correspondingly preserved a lot of the green space within Singapore.
High Density Housing Markets in Singapore
Due to the limitations on the area available to have as residential areas, there has been a lot of high-rise development, and high density housing created all over Singapore. The government understands that in order to help keep the economy healthy, a certain ratio of the population needs to be wealthy business owners and property developers. Without having enshrined the Good Class Bungalows in the gazetted areas, these traditional structures would have been eradicated and become high-density zones. Multi-storey buildings and overdeveloped suburbs lack green space, and are unattractive. The Singapore Government has met this with anticipation in preserving its natural beauty through the Urban Redevelopment Authority.
For the years to come, knowing that purchasing a magnificent Good Class Bungalow that will hold and increase in value, due to its historical opulence and limited supply, will keep the buyer feeling secure. Indeed, the purchase of one of these architectural delights which feature beautiful green scapes, ensures that paradise is preserved and delights the owner and onlooker.
If you're looking to make your investment property exude luxury and grandeur, work with the team at MDS Interiors.