Credit: Pixabay
Pristine, glamorous and luxurious… these are just some of the words which come to mind when you think of landed properties in Singapore. From industry-leading design to the most exclusive materials, landed property architecture inspires visitors and impresses every guest.
While many people overlook it, there is one part of your home you should not neglect — your staircase. A beautiful staircase sets off your home and and takes it from stunning to awe-inspiring. Below, we look at some unique staircase designs which you can consider for your property.
Sweeping, Artistic Lines
Gone are the days when staircases must be simple. You can build seamless, fluid staircases which are in themselves a work of art for guests to admire. These staircases blend perfectly into your colour scheme and architectural design. They also draw the eye around the impressive size and scale of your home. If you are looking for a way to inject subtle brilliance into your property, look no further than soft, beautiful staircase lines with seamless skirting.
Don't Neglect the Under-Stairs
The most innovative staircases have extraordinary attention to detail. Using sleek, minimal designs or bold, splashy colours to accentuate your surroundings, you can give yourself improved storage space — or a place for that special vase to really stand out.
Want to impress your guests while making your home as delightful and peaceful as possible? You can even build gardens around the under-stair area, giving you that quiet spot to curl up in and admire your home.
Choose the Right Lighting
Perfect lighting can make your staircase look like you are walking on air. From dramatic, contoured LED lighting to studs which glisten like diamonds, soft lighting is that subtle touch of detail so many staircases often lack. Whether you want a romantic or striking ambience, there are luxury lighting options out there for you.
Consider the View
If your staircase overlooks a garden space, or if you're lucky enough to have a double volume home, think about how your stairwell complements the overall aesthetic of your home. As you travel upstairs, consider hanging striking artwork or building wall inserts filled with customised ornamentation.
Think about how the garden you are overlooking can complement the indoor design — your landed property should work as one sophisticated unit, after all. That is what makes truly luxurious homes stand out.
Choosing Materials and Textiles
With options such as stunning glass or custom stone, the materials you use for your staircase are everything.
Glass can be used for balustrades, railings and even stairs. You are sure to be the envy of your neighbours with a seamless, cutting-edge design like this.
Combine glass with a floating step effect to feel like you're truly flying. This look is especially striking if you don't have double volume space but want to create the illusion of vast spaces.
Looking to be environmentally friendly? Choose unique, lesser-used materials such as bamboo instead of wood for an original and green staircase.
With the right care and attention, you can take your staircase to a new level of splendour.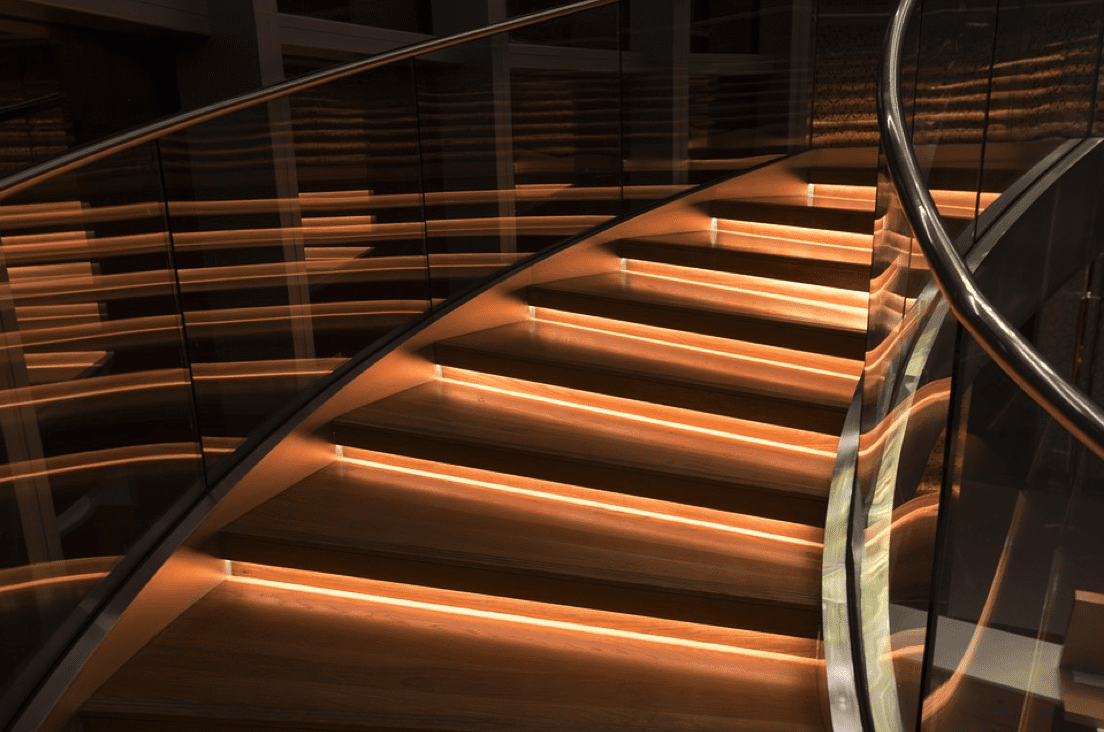 Credit: Pixabay